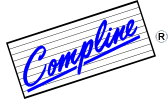 Hello Everyone:
I am happy and proud to announce today the first of three major Compline feature announcements. This is the smallest of the three – and it is a FREE Feature Upgrade for you.
Compline has added to its database several hundreds of thousand more – actually new – risks and associated data. These risks have not been in the database previously and represent most of the businesses in California. They are and have NOT been previously eligible for experience rating. When you see them online, they carry an "I" for "Ineligible" rather than a numerical X-Mod.
Over 1.6 Million new risknames were added as part of this new feature upgrade.
The bar graphic will show the unity X-Mod of 100. Small risks can be mapped for a satellite photo view of their location like all other risks. All other functions apply.
As or if they become eligible for experience rating they will receive an X-Mod.
The data transfer facility between Compline and Workers' Comp Utilities works the same way it does for all large risks, as do all of our print and presentation print facilities.
This feature is available now.
This addition will assist the community in identifying small risks. Compline continues to maintain risks which formerly had an X-Mod but which no longer qualify. The addition is risks, which have never had an X-Mod before. The Compline database retains data back beyond 1976.
Let us know what you think and how this can help you. Our helpdesk is always here to assist you: Helpdesk@Compline.com
Dale
Compline Gets Results !
Reliable Responsible and Reasonable Since 1982