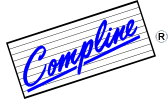 Hello Everyone:
This is more of a letter than our usual announcement memo. I'm getting so excited I can't contain myself about some things that are happening.
We have three major product / feature announcements for you coming during the next 30 days. What are they? Well, here are some hints:
More useful data;
New ways to access and use Compline data;
And a BIG something we've been asked for many times over the years that will make your life better and easier and save everyone in your organization valuable time is just about ready.
I am excited to be reading our Quickcourses, propaganda, and other materials and hope our Quality Assurance Team. So watch your email starting next week for these important new features and products.
On a personal note we want to say thanks to all of you for the overwhelming support we receive and feel from you. The comments we've had about how data transfers automatically between Compline and the Workers'' Comp Utilities X-Mod calculator have been fabulous. Your suggestions for additional reports are underway and being programmed.
It means a lot to all of us here, and inspires us to work harder to invent more new stuff for you.
Compline gets you results. Compline saves you time and money. Compline makes your job easier.
Thanks again,
Dale
Talk to us anytime at Helpdesk@Compline.com or call 916-774-4000